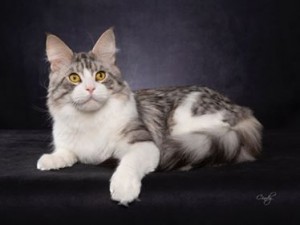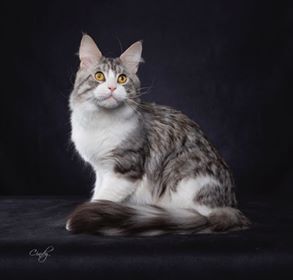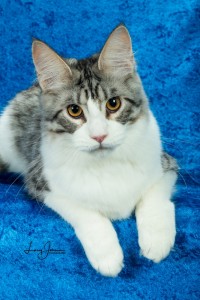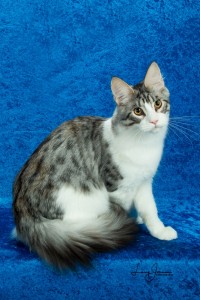 TC is the son of Mary of Amerikoons, and our very own Uneau!  He is a Black Silver Mackerel Tabby with White male.  He does look a lot like his sire!  DOB: 7/4/17.  8 months old and 17 lbs. of love!  Echo cleared for breeding!  DNA SMA cleared.
2017-2018 Show Season
14th Best Allbreed Kitten CFF
TICA Champion
TICA Grand Champion
TICA Double Grand Champion
TICA Triple Grand Champion
TICA Quadruple Grand Champion
TICA Supreme Grand Champion
TICA Regional Best Black Silver Mackerel Tabby/white Maine Coon
TICA Regional Second Best Maine Coon Kitten
TICA 13th Best Regional Allbreed Cat
TICA Regional 7th Best Longhair Championship Cat
TICA 5th Best Maine Coon Kitten Worldwide!
TICA Regional 4th Best Allbreed Kitten
TICA Regional 2nd Best Maine Coon Kitten
TICA 17th Best Maine Coon Cat Worldwide
TICA Best Black Silver Mackerel Tabby with White Maine Coon Cat Worldwide
2018-2019 Show Season
CFF Champion
CFF Grand Champion
CFF Best Black Silver Mackerel Tabby with White Maine Coon Cat
CFF Best Maine Coon Championship Cat
CFF Best Allbreed Championship Cat
2019-2020 Show Season
CFF Master Grand Champion
6th Best Championship Cat National
2nd Best Maine Coon Cat National
Best Silver Mackerel Tabby with White Maine Coon Cat