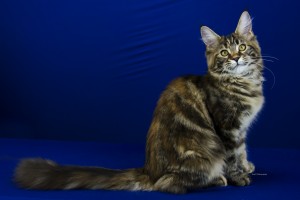 Kist is a Brown Classic Torbie out of Scout and Mavrik.  DOB: 9/22/17.  She is our newest addition to our breeding program.  She so reminds me of our very first purebred Maine Coon, Poofball.  Kist loves to show and is enjoying herself at the TICA Cat Shows this season as a kitten.  DNA SMA cleared.
Kist's next show will be in the Championship class!  She will show in TICA and CFF.
2017-2018 Show Season
TICA 8th Best Regional Allbreed Kitten
TICA 15th Best Maine Coon Kitten Worldwide!
2018-2019 Show Season
CFF Champion
TICA Champion
TICA Grand Champion
TICA Double Grand Champion
TICA Triple Grand Champion
TICA Supreme Grand Champion!  Our First Female Supreme Grand Champion!
CFF Best Brown Classic Torbie Maine Coon Championship Cat
TICA NE Region 12th Best Allbreed Championship Cat
TICA Region 6th Best Longhair Cat
TICA Region Best Brown Classic Torbie Maine Coon Cat
TICA Region Best Of Breed Maine Coon Cat
TICA 21st Best Maine Coon Cat Worldwide