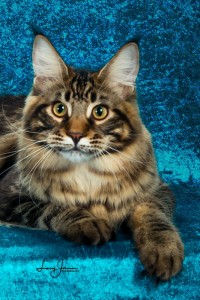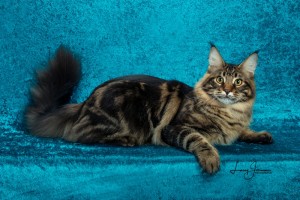 Maybe is a Brown Classic Tabby male.  DOB: 4/5/17.  Maybe is out of Scout and Mavrik.  He loves to show and is enjoying his time on the judge's table in every ring!  He is a big sweetheart.  He just recently completed his kitten career as he turned 8 months on Dec. 5th.  Now on for the Championship class.  Echo cleared for breeding!  DNA SMA cleared.
2017-2018 Show Season:
CFF Champion
TICA Champion
TICA Grand Champion
7th Best Allbreed Cat CCF Eastern Region
7th Best Allbreed Cat CFF National
2nd Best Maine Coon Cat National & Eastern Region CFF
Best Brown Tabby Maine Coon Cat CFF
TICA Regional Best Brown Classic Tabby Maine Coon Cat
TICA Regional Third Best Maine Coon Kitten
TICA Regional 7th Best Allbreed Kitten
TICA 9th Best Maine Coon Kitten Worldwide!
2nd Best CFF National Maine Coon Cat