TICA GRC CFF CH GGLEGACY Odin AngelMaybe
December 30, 2017

Amerikoons AngelTC Of GGLEGACY
December 30, 2017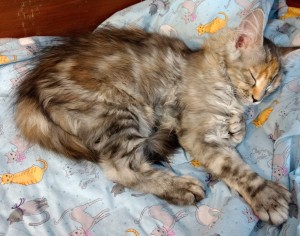 Spicey is our Black Silver Classic Torbie Maine Coon POLY female!  She is poly on all four feet.  She is the daughter of Triton and Firedance.  DOB: 4/7/17.  Although Spicey well enjoyed the kitten class at the shows, she is now in the Championship class. She will be screened by echo in February  to ensure a healthy heart for breeding.
2017-2018 Show Season:
CFF Champion
Currently Best Maine Coon POLY Kitten in TICA worldwide!  That can always change before the end of the show season.