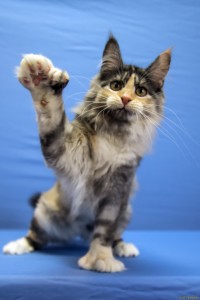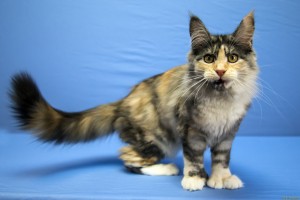 Princess is Black Silver Ticked Torbie with White Maine Coon POLY female! DOB: 11/6/16. She loves to give you a high 5, well maybe more like 7!  What a wonderful girl.  We hope to see kittens soon enough!  Echo cleared for breeding!  DNA SMA cleared.
2016-2017 Show Season
CFF 6th Best Allbreed Kitten
CFF Best Maine Coon POLY Kitten
TICA Best POLY Maine Coon Kitten Worldwide!
2017-2018 Show Season
TICA Champion
TICA Grand Champion
TICA Double Grand Champion
TICA Triple Grand Champion
TICA Quadruple Grand Champion
CFF Champion
2nd BEST Maine Coon Poly Cat in TICA Worldwide!
Best Maine Coon Poly Female Cat in TICA Worldwide!
Best Silver Ticked Torbie/White Maine Coon Cat Poly CFF
18th Best Allbreed Kitten National CFF
TICA Regional Best Maine Coon Poly
TICA Regional Best Black Silver Ticked Torbie/white Maine Coon Poly
TICA Regional 19th Best Longhair Championship Cat
TICA Best Black Silver Ticked Torbie with White Maine Coon Poly Cat Worldwide
2nd Best CFF National Maine Coon Poly Kitten